MCAST collaborates with Hudson Group to enable its students grow within the retail industry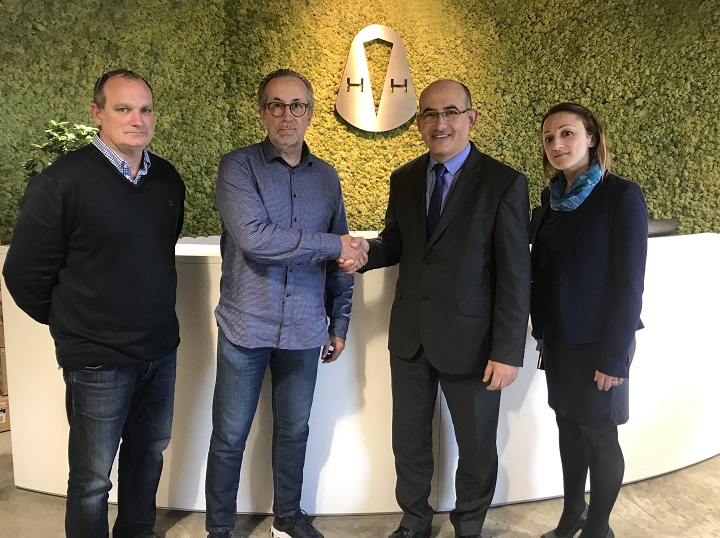 Hudson Group and MCAST have signed a Memorandum of Understanding which will enable MCAST students gain exposure and on the job training within the retail industry. This will seek to equip students with the necessary skills to grow within this ever growing international industry.
Whilst the Retail Industry is one of the main employers on the island, besides the Advanced Diploma in Fashion & Retail offered by the MCAST Institute of Creative Arts, there is little other related formal education offered to students who wish to take up a career in this field.
The two parties are therefore collaborating in order to enrich the theoretical and practical training to prepare students for employment in the retail industry. In particular, Hudson Group employees will support the development of the current curriculum and will run lectures and workshops for the MCAST students in a number of Retail related fields.  
Furthermore, on an annual basis, a number of Students will be offered Apprenticeships that will enable them to gain invaluable work experience that will complement their studies, whilst exposing them to the various interesting career opportunities in the retail sector.
"The Retail Industry offers many interesting career opportunities with many exciting roles in areas such as Brand Management, Retail Store Management, Visual Merchandising, Planning & Buying and Marketing amongst others. Being a major player in the Retail and Distribution industry in Malta and the Mediterranean region, we feel we are an ideal partner to support MCAST in its mission to bridge the skills gap and prepare their students for employment in the industry" said Alfie Borg, Hudson Group CEO.
About Hudson Group
Hudson Group is an international retailer and distributor primarily involved in the sport and fashion wear sectors. The Group's head office is located in Malta but is also present through offices in Italy, Spain, Morocco, Tunisia and Algeria. Though Hudson Holdings was founded in 2006, the Group's roots reach as far back as 1987 when the first pair of NIKE was sold in Malta.
Locall Presence
In Malta, Hudson Group is the leading retailer and distributor of sportswear products. We represent numerous sport brands such as NIKE, Converse, Timberland, Crocs, Eastpak, New Era plus franchisees of GoSport from France. We also own our own franchise concepts, Urban Jungle and House of Sport, across the Maltese Islands. In the fashion world we serve the fast fashion market in Malta through New Look, River Island, United Colors of Benetton, 3INA and Kiabi, making us one of the leading fashion retailers locally. We use Malta as our training ground to launch brands and franchises, test them, get to know how they work and then take them internationally.
International Presence
Internationally, the Group currently has a direct retail presence in European and African countries as well as a distribution base covering over 30 territories. Urban Jungle, our own home grown sneaker store, has been taken internationally across European and North African cities. This sneaker store concept is present in top cities (www.urbanjunglestore.it) including Milan, Rome, Torino, Naples as well as in Madrid, Paris & Casablanca, amongst others. 29 open to date. In Africa within the retail sector, we are present in Morocco through NIKE stores and distribution, Urban Jungle stores and Tommy Hilfiger mono brand stores and are the distributors for NIKE in 28 Africa countries. These are served from our logistic hub in Malta and through our in country offices. We also undertake the distribution of other brands, mainly in the sportswear sector such Converse for parts of Africa with a current focus on the North African countries. Recently the Group has become the master franchisee of New Look for Tunisia and has opened a New Look store in Tunis through a local partner. This is the first step towards taking fashion franchises to Africa, outside Libya where the Group was previously significantly represented. The Group is in the process of establishing retail presence in Algeria and developing further its distribution in Sub Saharan Africa.
Brand & Franchise List
The Brands and Franchises handled by Hudson Group and its partners either internationally or locally or both include: NIKE, Converse, River Island, New Look, United Colors of Benetton, Timberland, 3INA, Crocs, Kiabi, Tommy Hilfiger, GoSport, Urban Jungle.