A vibrant Freshers' Week started today, 10 October, at the MCAST Campus in Paola and will continue over the next four days. New students who joined MCAST during the 2022/23 intake received a warm welcome this morning for them to discover the campus surroundings and experience the lively atmosphere and excitement. This year the College received over 8000 applications, and over 2900 students registered to join new full-time courses.
The President of Malta, H.E. George Vella, was welcomed at the College at the opening of the Freshers' activities. He was accompanied by the Minister for Education, Clifton Grima and the Principal Professor Joachim James Calleja. They visited various stands and spoke to new and current students and College staff.
Over 100 companies and NGOs are participating in the much-awaited student-centred activity. Over 40 educational talks are taking place at the new MCAST Resource Centre, which houses the College's impressive new library. With the theme 'A Bright Future', the activities encourage students to explore different career pathways, understand the benefits of work-based learning and engage in student activism. Community Social Responsibility is the main focus of this celebration, encouraging students to participate in voluntary work opportunities and to commit to positive social change.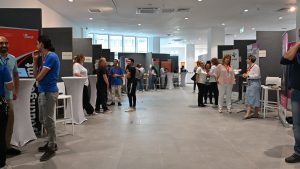 The Freshers' activities include orientation visits, talks, and demonstrations, which allow MCAST to give students a warm welcome while making them feel at home within the College community.
The Freshers' activities will also be held at the Institute for the Creative arts Campus in Mosta on 13 October and the Gozo Campus on 14 October.
https://www.mcast.edu.mt/freshers-week-event-2022-23/