MCAST level 8 students reading for their doctorate met Education Minister Justyne Caruana at MCAST's Main Campus in Paola. "MCAST development is a priority," announced the Minister for Education during the social meeting, as she continued by stating, "The MCAST draft bill has passed its first reading in Parliament leading the way for MCAST to become an autonomous institution."
The Professional Research Doctorate (DRes) in Competitive Behavior of Small Organizations Doctoral programme assists researchers to understand which best-practice models should be adopted by business-oriented small firms and organizations. Thus elevating the knowledge and competences of SMEs in Malta, by spearheading evidence-based decisions.
Launched in June 2021, the Doctorate commenced in October with a total of ten enrolled students, coming from diverse backgrounds. Eight students currently reading for this course come from MCAST as well as two external students.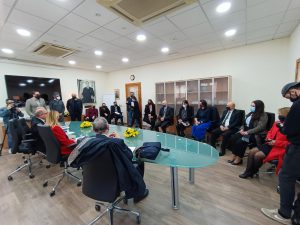 The Research Doctorate is managed and coordinated by the College's Doctoral Degree Committee, with its appointed members are Professor Joachim James Calleja as the Chair, Vice – Chair Professor Mark Borg and executive secretary Dr Alex Rizzo.
In offering this Doctoral programme, MCAST has joined forces with the Malta Chamber of SME's and the Richmond Foundation. This programme offers a dual advantage as it helps MCAST solidify its collaborative efforts with key industry partners whilst ensuring that education provided at the College contributes and informs local economic development.