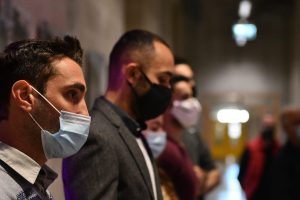 Applications for the Pre-Warrant Qualification course are now open to MCAST graduates who completed the Bachelor of Engineering course. This was announced during a joint visit to the College's Institute of Engineering and Transport by the Minister for Education Justyne Caruana and the Minister for Transport, Infrastructure and Capital Projects Ian Borg. Earlier this year, the Ministries announced the Engineering Profession Board's decision to halt the injustice suffered by the students who have been graduating since 2013.
Minister for Education Justyne Caruana said, that today's occasion at MCAST has important significance because it is a very important achievement for engineering students. She went on to say that, "After years of study at MCAST, the students were for many years denied the right to practice their profession, so a lot of work has been done to address this injustice. Hence this preparatory course so that these students, past as well as those presently studying, can acquire their warrant".
Minister Caruana said that therefore not only has injustice been addressed, but more students will be encouraged to pursue this profession. Minister Caruana said that, "The engineering profession is important for our country's economy as well as an important profession for the new niches we are exploring as a country to have a stronger and more resilient economy". She thanked all those involved for the work done, the MCAST leadership and all the engineering students.
Minister Ian Borg said, "This is the level we want for our country and the quality we want to reach. We want Maltese youths to be recognised globally not only in engineering but also in other fields and sectors. It is also important to say that through this work by Government we are further breaking the tribalism in our country so that no distinction between University and MCAST graduates is made", said Minister Ian Borg.
Principal and CEO Professor Joachim James Calleja said: "The first cohorts of the Pre-Warrant Qualification Course, both mechanical and electrical, will start in March and the course will last for one year. Education requirements in the era of Industry 4.0 necessitate a pro-active approach towards making learning relevant to the workplace. MCAST offers degrees which are well received by industry, and many of our students go on to further their studies at Master's and PhD level. We will keep ensuring international standards and excellence in vocational and professional education."
MCAST's Institute for Engineering and Transport offers over fifty full-time courses each year and is equipped with the latest technology in various areas. The Institute is organised into several Centres and Departments to provide sectorial focus, covering the respective areas, namely: aviation maintenance and training, automotive engineering, building and construction, electrical and electronics, mechanical engineering and maritime studies.